Worn by Maharajas and Marilyn — The Moon of Baroda diamond
Offered in Magnificent Jewels on 27 November at Christie's in Hong Kong, the 24-carat fancy yellow diamond that captivated Indian and Hollywood royalty
In 1953, the 24.04-carat pear-shaped, Fancy Yellow Moon of Baroda diamond was ready for its close-up at 20th Century Fox. To promote the release of the Howard Hawks film Gentlemen Prefer Blondes, Marilyn Monroe famously wore the Moon of Baroda while singing the film's signature song, Diamonds Are a Girl's Best Friend.
'It's gorgeous!' Monroe is said to have gasped when first setting eyes on the stone, which was the largest diamond she ever wore in her lifetime. It was a moment that catapulted the Moon of Baroda to international fame.
But the diamond has a much longer story, even if — as with many historic gemstones — concrete evidence of its early history has disappeared. The Gemological Institute of America has recently determined that this historic diamond is from the legendary Golconda mines in India, which, until the advent of the 20th century, produced the finest and largest diamonds in the world.
Most historic stones, such as the Koh-i-Noor and the Grand Mazarin, as well as the Moon of Baroda, were probably discovered in this area between the 15th and 17th centuries. At one time, this alluring diamond may possibly have been part of the vast collection of the Gaekwads of Baroda, one of India's wealthiest and most powerful ruling families.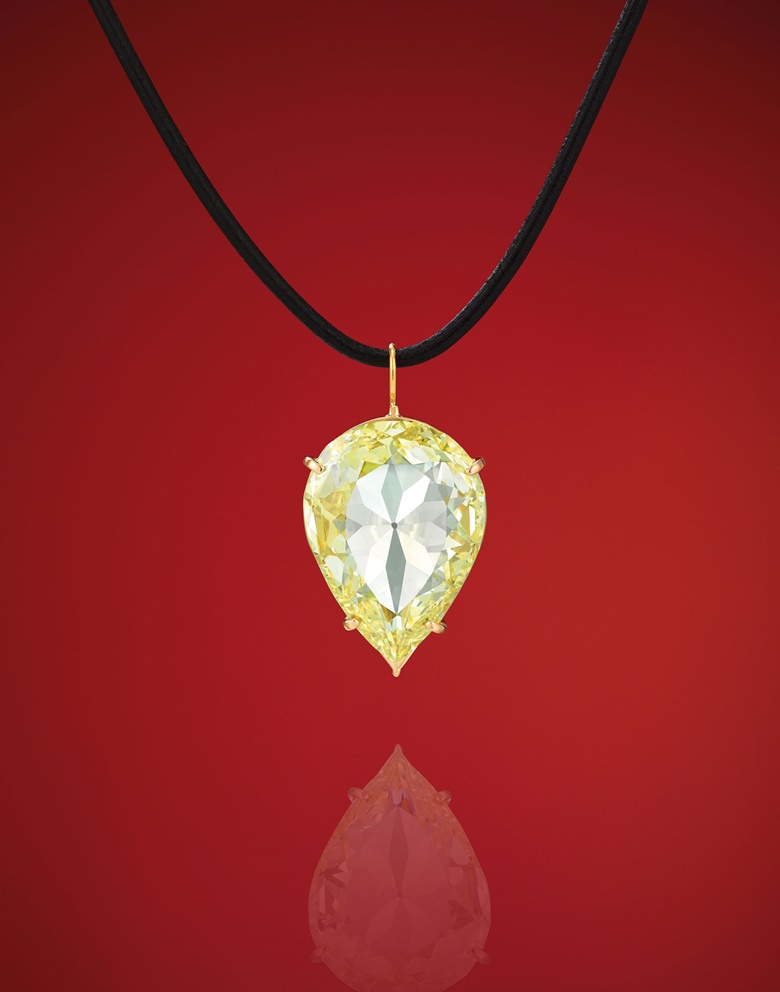 According to the 3 July 1953 edition of the Cleveland News, the Moon of Baroda was acquired in 1944 by Samuel H. Deutsch, the president of a distinguished firm of diamond cutters in Cleveland, Ohio. He sold it to Meyer Rosenbaum, president of Meyer Jewelry Company in Detroit, Michigan, in 1953 — the same year in which this extraordinary coloured diamond came to be associated with Marilyn Monroe.
In September 1966, the Moon of Baroda was described by another American newspaper as representing 'one of the most brilliant examples of diamond-cutting in diamond history. It is canary yellow and very clean, and its pear-shaped design is well adapted for the royal headgear of Indian nobility.'
In 1990, the diamond was offered at Christie's in New York, realising $297,000 — nearly tripling its low estimate. Eighteen years later, in 2008, it was seen in public for the first time in years when it was shown at the Diamond Divas exhibition in Antwerp.
On 27 November, after two decades in a private collection, the Moon of Baroda will again take centre stage as a highlight of the Magnificent Jewels  sale at Christie's in Hong Kong, where it will be offered with an autographed photo of Marilyn Monroe wearing the 24-carat stone.